FEATURED PICKLEBALL PADDLES
WHY BUY FROM VOLLEY LLAMA PICKLEBALL?
We pride ourselves on being the best pickleball gear supplier on the internet. Find out why our customers love VolleyLlamaPickleball.com!
FAST SHIPPING

Get On The Court Faster

We hate long shipping times and want you to get what you ordered as soon as possible. That's why we stock all of our products to ensure you get them when you need them.

BEST IN CLASS CUSTOMER SUPPORT

We Care About You

No one likes a bad shopping experience, ourselves included. You're in good hands with us. Shop with confidence.

100% SECURE SHOPPING

Shop With Confidence

We use 256 bit encryption to ensure your personal information is safe and secure. Shop with confidence knowing your information is safe with every transaction.

PROUD AMERICANS

Support US Businesses

As Americans, we love our country and take pride in the fact that we are an American business. When you shop with us, you support American Jobs.

Column30 DAY GUARANTEE

We Stand By Our Products

Shopping online shouldn't be a risk. We offer a 30 day guarantee on all of our products. Check out our return policy for more information.
PICKLEBALL - THE FASTEST GROWING SPORT ON EARTH
At VolleyLlamaPickleball.com we are dedicated to the growth and support of each and every pickleball athlete, whether beginner or pro, old or young and to the development of the sport for the enjoyment of all!

Most people hear "pickleball" and assume you have made up a word. When you explain that pickleball is the fastest-growing sport in North America, their eyebrows raise. I had this same reaction. Certainly, there isn't a sport with such a ridiculous name. This must be the setup of some joke. In fact, I thought Uncle Dick invented the game with his senior friends at the recreation center for the retired! Then I attended the Margaritaville USA Pickleball National Championships at the Indian Wells Tennis Garden in the namesake city in California. The Tennis Gardens are a known mecca for the best in Tennis. I knew then that I had somehow been sleeping under a rock and missed the rapidly rising popularity of this sport. With some disappointment, I realized Uncle Dick didn't invent the game but on the bright side was a staunch ambassador of the paddle sport and a great coach of the game.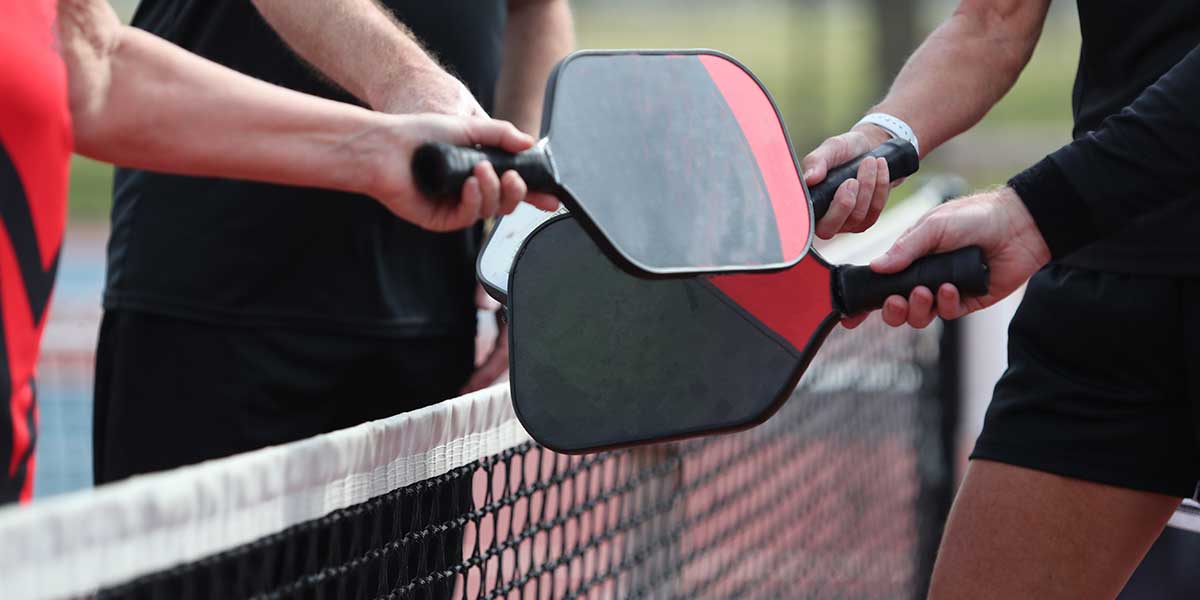 But what is this game of Pickleball exactly? Pickleball players will tell you it's a lot of fun and addicting! The players will tell you it's a very social sport and the game tends to be friendly and easy to learn. If you've seen ping-pong, badminton, and tennis, you'll understand the elements of the game. It is similar to a racket sport but played with a solid paddle that can be made of wood (beginner level paddle and the original paddle was made from wood), or graphite and fiberglass for the intermediate and advanced levels. Two to four players are separated by a net that divides a small court. Actually, four courts can fit into one typical tennis court. The layout and dimensions are the same as a badminton court and a net and rules like tennis with a few modifications. A player serves a plastic ball with 26-40 holes, similar to a wiffle ball, to a player on the other side and the players engage in a volley until a point is scored.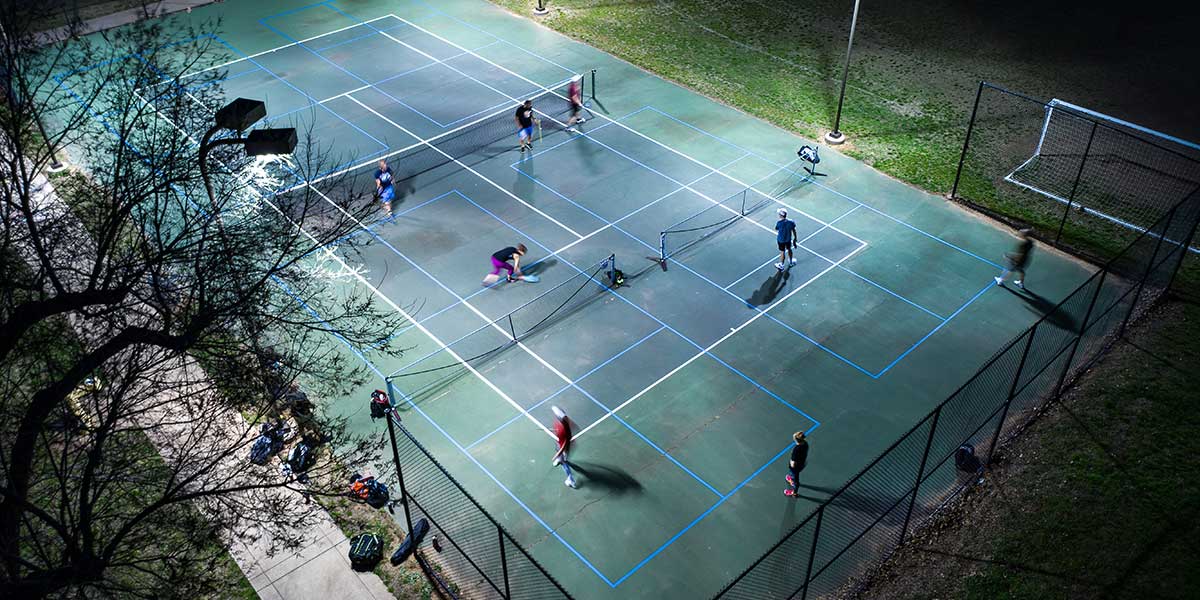 As the story goes, one summer in 1965, a group of kids on Bainbridge Island, Washington, were bored. Joel Pritchard, who would become a member of the U.S. Congress, gathered his friends (Bill Bell, Barney McCallum) after returning home from a round of golf at his home. The kids needed an activity but as kids tend to lose interest in things quickly, a new game was in order. The attempt at badminton failed after the search for the shuttlecock was fruitless. They would not be deterred so used a Wiffle ball instead and lowered the net to the ground. Next, they took some plywood to the woodshop and fabricated the paddles.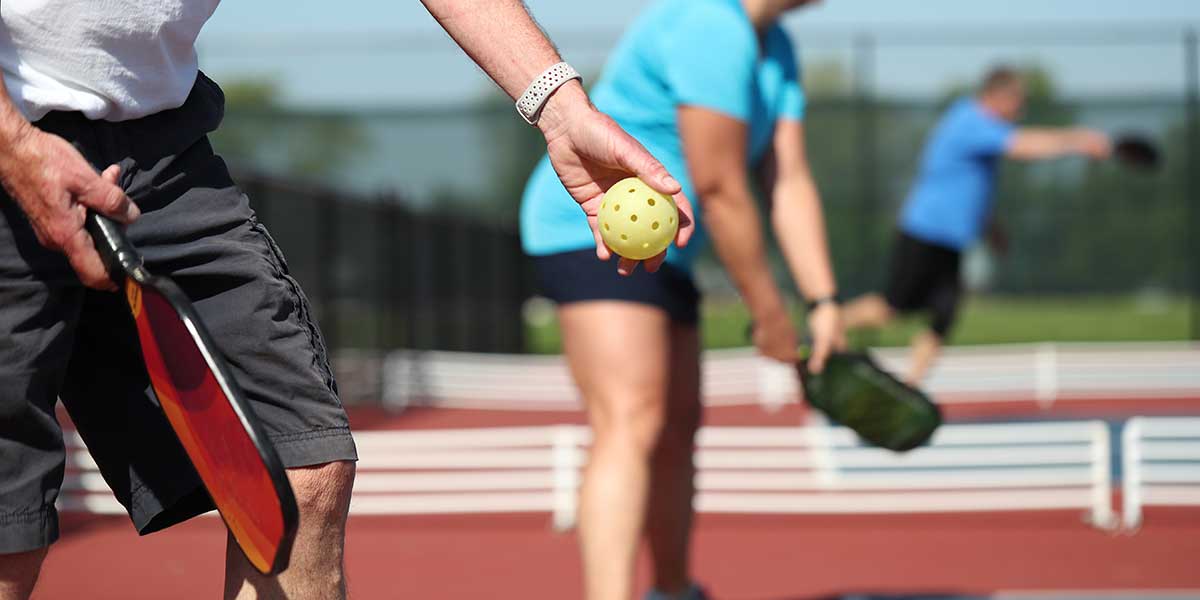 Before long, McCallum was making paddles in his basement, and in 1972, he incorporated Pickle-Ball, Inc. and started manufacturing the basic wooden paddles that served as the foundation of the sport. His son, David, continues this legacy today. Pickleball continues to grow, showing tremendous activity during and after the pandemic. The popularity of outdoor activity is now paralleled by the popularity of indoor activity centers across the country and in Canada.
SHOP PICKLEBALL PRODUCTS